COMMnections presents: People-First: How to Create Diverse, Equitable and Inclusive PR Efforts That Engage Rather Than Divide
Audiences should always be at the center of our public relations and marketing efforts. Yet the needs, challenges and interests of diverse audiences are often an afterthought in public relations planning. In this session we will explore effective audience inclusion strategies through a DEI communications framework to position overburdened community audiences at the center of campaign, message and material development planning and serve as insightful collaborators to engage — and not divide — communities.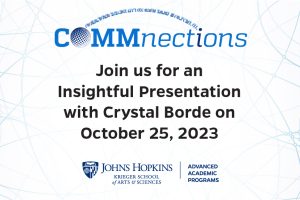 By the end of this presentation, participants will be able to:
Discuss the concept of "people-first" and why audiences must be at the center of engaging public relations campaigns;
Understand effective audience inclusion strategies within a DEI communications framework to apply throughout campaign development; and
Explore approaches for collaborating and engaging with overburdened communities as partners and avoiding divisive strategies, such as tokenism and unconscious bias.