Business of Saving the Planet | Environmental Leadership
Join Johns Hopkins and environmental leaders Jane Goodall (Jane Goodall Institute), Ryan Gellert (Patagonia), and Lisa Jackson (Apple).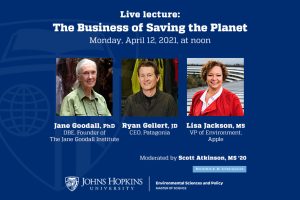 Leadership is the art of motivating and shepherding groups of people to act toward achieving a common goal. In a business setting, this can mean directing workers and colleagues with a strategy to meet the company's needs. Right now, developing environmental leaders within the private and public sectors is a global priority. Without strong leaders, we won't respond effectively to the challenges of climate change, nor be able to chart a path towards a regenerative society. Through the personal stories of our three guests, our discussion will explore what makes a great leader and serve as a dialogue for people who aspire to be strong, impactful environmental leaders in their families, communities, companies and/or on a bigger scale. Join us for this discussion with Dr. Jane Goodall, Ryan Gellert, and Lisa Jackson.
Introductions by Dr. Jerry Burgess and Q&A led by Dr. Jenn da Rosa from the Johns Hopkins University Environmental Sciences and Policy program. Moderated by alumnus Scott Atkinson (MS '20).
Please note: This virtual event will be streamed directly to the Hopkins at Home platform via jhu.edu/hopkinsathome. You will not receive a zoom link. Please register to receive the reminder and then also consider saving this event to your digital calendar to be sure you don't miss it.