Author Talks with Jaime Green on Her New Book "The Possibility of Life"
Join host Rachel Lense, a graduate of the MA in Science Writing program, for a conversation with author Jaime Green as they discuss Green's new book "The Possibility of Life" as well as her journey as a writer, editor, and educator.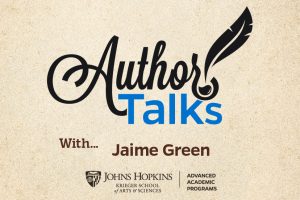 From HarperCollins on "The Possibility of Life":
In The Possibility of Life, acclaimed science journalist Jaime Green traces the history of our understanding, from the days of Galileo and Copernicus up through to our contemporary quest for exoplanets in the "Goldilocks zone," where life akin to ours on Earth might exist. Along the way, she interweaves insights from a long-standing tradition of science fiction writers who use the power of imagination to extrapolate and construct worlds that in turn inspire scientists.
Weaving in expert interviews, cutting-edge astronomy research, philosophical inquiry and pop culture touchstones ranging from A Wrinkle in Time to Star Trek to Arrival, The Possibility of Life explores our evolving conception of the cosmos to ask and even deeper question: What does it mean to be human?
Jaime Green is a freelance science writer and editor. Her writing has appeared in The Atlantic, The Nation, Slate, The New York Times Book Review, Popular Science, Catapult, Astrobites, and elsewhere. She received her MFA in Nonfiction from Columbia University, and she is a lecturer at Smith College and at the Johns Hopkins graduate program in Science Writing. Jaime is the series editor of The Best American Science and Nature Writing and author of The Possibility of Life: Science, Imagination, and Our Quest for Kinship in the Cosmos.