Author Talk featuring Michael Siegel
Join host Dorothea Wolfson for a conversation with author and JHU faculty member Michael Siegel on his new book, Lessons in Leadership from the White House to Your House.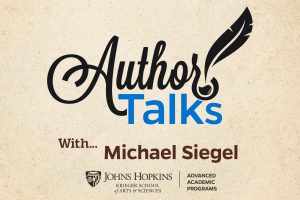 Michael Eric Siegel is an award-winning adjunct professor of Government at The Johns Hopkins University. He is also the author of The President as Leader (Routledge, 2018). He has written at least twenty articles in professional journals and published four op-eds in the Baltimore Sun. From 1992-2021, Siegel served as a Senior Education Specialist at The Federal Judicial Center, where he designed and delivered leadership education programs to chief judges of the US courts and to federal court unit executives.
Join us either online or in person for this "brown bag" lunch-time event here in our offices in Washington, DC.
This will be a hybrid in-person event held here in Washington, DC at our offices at 1717 Massachusetts Avenue, NW.