Join Communication Program Coordinator Dr. Patricia Hernandez for "Are you 'Zoom'ed Out?" This webinar will explore best online communication practices to ensure you and your organization not just survive, but thrive during this pandemic. In the webinar, we will focus on the best virtual meeting practices and ways to express and perceive body language within a small box. This webinar is free and open to the public.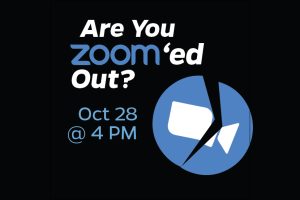 You were told to work remotely for a few weeks, and just like that 6 months have gone by. It was a drastic transition that didn't come with a manual on "how to work remotely." Perhaps you got off to a rocky start. By now, some of you may be so over Zoom. You've threatened to boycott it when this pandemic ends. While uncertainty is the name of the game, one thing for certain is that we can strive to merely survive, or we can choose to thrive.
Dr. Patricia A Hernandez is the new program coordinator for MA in Communication at Johns Hopkins University. Just last March, she was teaching at a small liberal arts university in Wisconsin where students pulled a zoom prank on her. She wasn't embarrassed; instead, she took to Twitter; the next thing she knew, a reporter from the Wall Street Journal was interviewing her for a story. Hernandez, like many of you, was forced to transition her work online, and yes, she has utilized Zoom.
Hernandez has extensive experience in on-the-ground and online course and program development as she developed an online M.S. degree in communication. Hernandez also served as the Vice-President of Character Education because I said I would, an international social movement and nonprofit where she led strategic communication and program development and implementation as appeared on the NBC TODAY Show. In every role, she is no stranger to strategically and effectively working remotely with students, colleagues, clients, and CEO's alike.
Dr. Hernandez's work appears in the Journal of Communication Education, Journal of Media Psychology, and Journal of Psycho-oncology and the Handbook of Arab American Psychology. She has served in a consultant role for the CDC, small businesses, and higher education institutions. She was awarded a PRSA Silver Anvil award for an internship partnership program with the city of Riverside. Hernandez received her Ph.D. in Journalism and mass communication at the University of Wisconsin – Madison, where she also earned her M.S. in life sciences communication.