Data Dimensions featuring Alumnus Brian Higgins, '11
Join Brian Higgins to discuss trends he sees in data and analytics across multiple industries, including the specific needs employers find hardest to fill.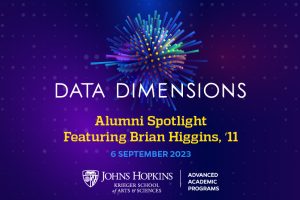 Brian Higgins (JHU MA in Government, 2011) has used the skills he developed at JHU's Center for Data Analytics, Policy, and Government in work that spans a variety of settings. He has worked as a congressional liaison for the Navy, served dozens of public and private clients at McKinsey, and now advises the president of the NCAA on business and policy priorities.
Brian will talk about how he built on the knowledge he gained at JHU to advance his career and solve challenging problems.