AAP MLA Speaker Series - October 2021 Featuring Eglute Trinkauskaite
Join us for a discussion with Eglute Trinkauskaite on "Soul-breath-wind in the Lithuanian Context"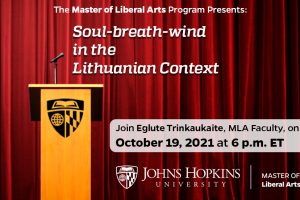 Lithuanian folk healers who use verbal healing charms will often use the technique of harnessing the breath. In a comparative context, this technique resonates with Vedic understanding of the cosmic winds in the human body. In Lithuanian, the oldest living language related to Sanskrit, the word for the soul (dūšia, vėlė) is connected to the word used to mean both breath and wind (vėjas), which have the connotations of wind, breath, fog, steam, and a cobweb-like transparency. The Hindu deity Vayu, god of the wind and breath, is closely related to the Baltic wind deities—the Lithuanian gods Vėjas, Vėjapatis and the Latvian god Veja Mate. Lithuanian folk healers practice a type of breath control that is similar to the ascetic breathing techniques used in Vedic yoga. Lithuanian verbal healing charms suggest a close connection between atmospheric air and bodily breath, adding a broader understanding to the meaning of breath in specific indigenous ontologies and epistemologies. The Lithuanian conception of the individual soul-breath (dūšia, dūkas) challenges the customary Western opposition between spirit and matter.
Eglutė Trinkauskaitė teaches courses in environmental studies in the Master of Liberal Arts program. She is also full-time faculty in the department of Humanistic Studies at the Maryland Institute College of Art. Her field of teaching and research is the History of Religions, with a focus on Native American and other Indigenous traditions, ecology, and the materiality of religion.
Tristan Cabello is Associate Director of the Master of Liberal Arts program.